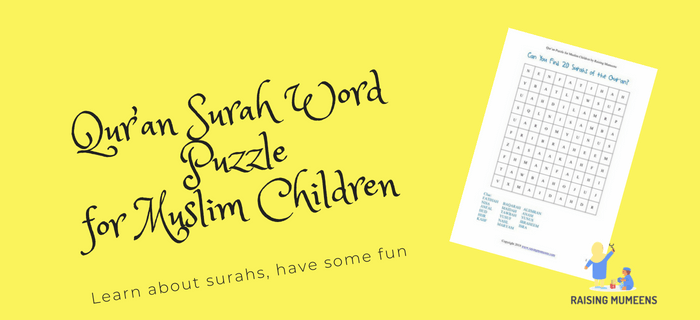 The Qur'an Surah Puzzle for Muslim children is a fun way to introduce and also test the knowledge of children about the surahs in the Qur'an.
The printable has 6 pages, with each page containing 20 surahs in a puzzle. Except for the last pages that contains the last 14 surahs of the Qur'an.
The Qur'an surah puzzle for Muslim children can be downloaded by clicking here.
How To Use the Qur'an Surah Puzzle for Muslim Children
Really, there is nothing to it. The puzzle works like every puzzle. You simply print it out and use. The surahs are written without prefaces (eg: fatiha instead of al-fatiha), because since most surahs have that preface, it will make the puzzle more difficult.
Please feel free to share with your friends and family, and while you're here, subscribe to the blog! 😊