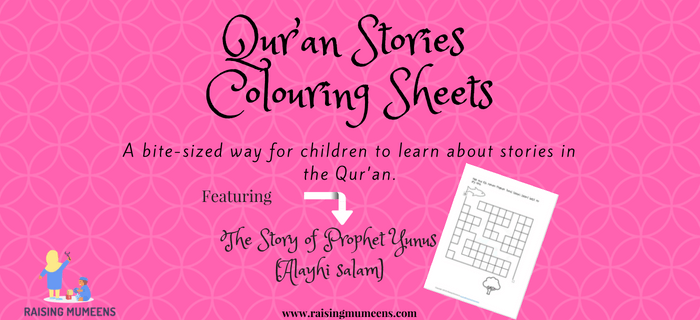 Our second post in the Qur'an Stories for Little Children features the story of Prophet Yunus (Alayhi-s-salam). Like all other Prophets of Allah (ta'ala), his story is a lesson on aqeedah, iman, and taqwa.
You can read the first post about Prophet Nuh (Alahyi-s-salam) here.
As adults, we know how we are affected by stories in the Qur'an. You read about the trials that a certain Prophet was faced with, and your own challenges become tiny in comparison. We are able to relate to these stories on a deeper level because of our experience with life.
For kids, we can help them bring these stories to life in a fun and exciting way, without watering down the lessons even one bit. This is why I create this series of printables about the Prophets' stories.
In this post, I am sharing a free downloadable printable of the story of Prophet Yunus (Alayhi-s-salam). This printable features a very brief summary of his experience with the whale. I have tried to keep these printables as short as possible so that the kids only get the information that they can process at their ages.
The printable is recommended for kids aged 2-8 years.
How to Use the Story of Prophet Yunus Printable
Print out the printable
Use the summarised story as a pointer to tell your child about the life of Prophet Yunus
Use the 'lessons' segment in the story to teach the moral of the story, possibly with a focus on the belief in the oneness of Allah (ta'ala), and taqwa of Him
Give the child the third page to work on the maze. For older kids, you can quiz them on what they've learned
What this Printable is NOT
Again, this printable is not an explanation of the Qur'an, neither is it attempting to issue any fatwa or establish any jurisprudence. It is a way to, like I said earlier, tell your child about stories in the Qur'an.
This printable is a free download that you can use as many times as you need. Please feel free to use for your kids, madrasah students, school students, etc. But please, this is an amanah. So, do not host this file (and other files created by me) on your website, sell it, claim it as yours, remove the Raising Mumeens logo, or share without credit. This will be against copyright rules.
You can click here to download the free printable about the story of Prophet Yunus (Alayhi-s-salam).
(If you have any problems with the download, please leave a comment or contact me). Please feel free to share it on your social media pages, WhatsApp, Telegram, or via email with your friends. JazaakumuLlahu khayran.