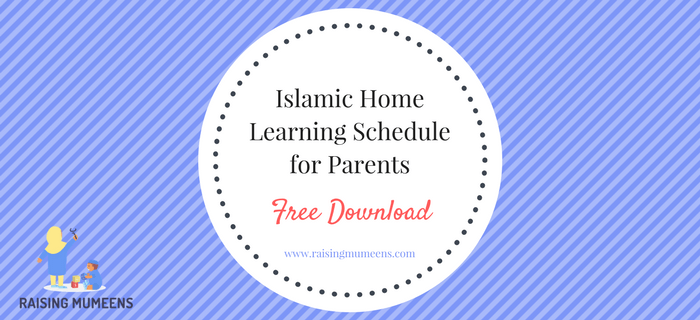 As much as I love to dream up plans and materials to teach my kids Islam at home, I will be honest that one thing that I struggle with the most is consistency. So, I made this Islamic Home Learning Schedule for parents to plan and keep track of what they want to teach the kids at home.
Many times, you have all these bright ideas but you get derailed by life. One week we are memorising a hadith and mastering few Arabic words, and the next week, I have zero ideas on what we should do and before I know it, procrastination takes over and we stop doing anything altogether.
For an adult, it is easier to get back on track when you've abandoned something. Most times, you just need to pick up where you left off.
But with the kids, I have noticed that we usually have to start something over again as if we never learned it before. So, even if I didn't know it before, now I know that it is a waste of time for all of us if I start something with them and we abandon it before they've mastered it.
So, to motivate myself to do better, I created a weekly schedule for us. I had made a weekly schedule for myself in my diary and it has been working for me to an extent since 2018 began. So, I figured that if I made one for the kids' study at home, we should be able to plan better and stick with it.
This Islamic home learning schedule is a very simple one-page document. No frills. It is just for you to brainstorm (probably on a Sunday) about what you want to teach the kids during the week.
How to Use the Islamic Home Learning Schedule
The calendar has four sections: Adkhar to memorise, Qur'an verses to memorise, Arabiyyah, and the daily adkhar checklist.
For the first three sections, you pick one or two things that you want to focus on in a week. So, you may write down two ahadith/adkhar that you want to teach them, 5 Qur'an verses, and 5 Arabic words. Something not too overwhelming, rather tailored to the age of your child.
For the daily adkhar section, I am going to use this as a checklist to help us remember to say our adkhar every day. I say mine, but most times I am probably moving about the house while saying it, so I don't involve them.
If a section does not apply to you, simply cross it out and replace it with something you will like to do with the kids.
I'm hoping that I can save all the weekly calendars, so that we can look at it at the end of the year and see how we did, in sha'a Allah.
Please feel free to download your copy of the Islamic Home Learning Schedule here.
It is for all Muslim parents whether your kids attend school outside the home, or you homeschool them.
I hope you find it beneficial.
If you have another method of organising your Islamic education at home, please share with us in the comments section.