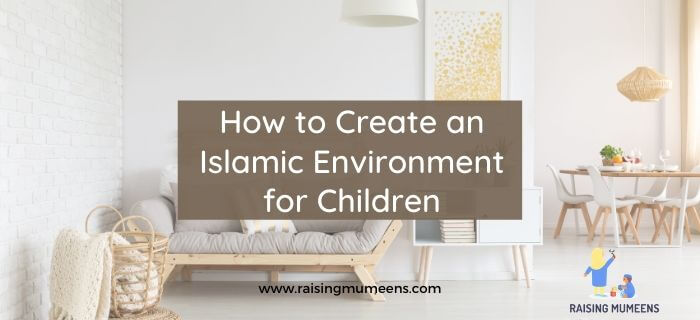 Someone asked me a question recently about creating an Islamic environment for children, especially when you don't live in a Muslim country. And it got me thinking about the misconception that you need to live in the Arab world to give your child a wholesome Islamic upbringing.
The fact is that wherever you live in the world, you can create an Islamic environment for your child by being deliberate about your choices and your lifestyle.
What Does It Mean to Create an Islamic Environment for Children?
The environment that a child lives greatly impacts the adult that they turn out to be. The people that they interact with, friends they have, activities in their home, all contribute to shaping their personality as they grow.
When we talk about an Islamic environment, it means an environment that connects the child with their identity as a Muslim. This is an environment where the child learns what Islam is and how to be a Muslim.
In this environment, the values of Islam are upheld and practised in obvious and non-obvious ways.
Many people think that this Islamic environment is a closed-off community where your child only interacts with Muslims, eat 'Muslim' foods, and shuns non-Muslims, but no.
The Islamic environment is both within your house and outside of it. It is the community, the tribe of people and the atmosphere that you create for your child.
Why Do We Need an Islamic Environment?
Simply put, the idea is for children to have a connection to their Islamic identity as much as possible through the things that they do daily and the people they meet.
Islam is not an abstract, textbook religion that lives only inside the Qur'an. It is our way of life and our environment should reflect that.
That said, here are the three ways to create an Islamic environment for children:
Create a Family Lifestyle that Reflects Your Islamic Values
If a visitor were to enter your home right now, will they be able to tell your Islamic values after spending a few minutes? This is not about the Islamic wall art hanging in your living room or the Qur'an quotes on your bookshelf. Rather, this is about what you say, how you eat, how you interact with your family, etc.
Speak with the remembrance that you are Muslims, by giving the salaam often, saying the dhikr of Allah (SWT), praising your child with phrases like ma sha'a Allah, baarakAllahu feek, etc. Let your deen reflect in your speech, manners and interaction and it will create an environment where your child is constantly taught about Islam.
Make Resources Available for Learning
The books and learning resources that a child is exposed to are a great way to create an Islamic environment. These books can be story books, seerah books written for kids, activity and colouring books, etc. You should also include audio-visuals, videos and audio that have Islamic content for kids.
Depending on the age of the child, you can read these books to them or they can read themselves. Whichever method that you use, it is a good idea to make a habit of discussing Islamic books and other learning materials with your child.
It is an opportunity for you to add Islamic moral lessons that are related to the book(s) or videos.
Keep these resources where they are easily accessible for the child, to encourage a self-motivated way of learning. When they can grab a book and settle with it by themselves, that encourages them to read more.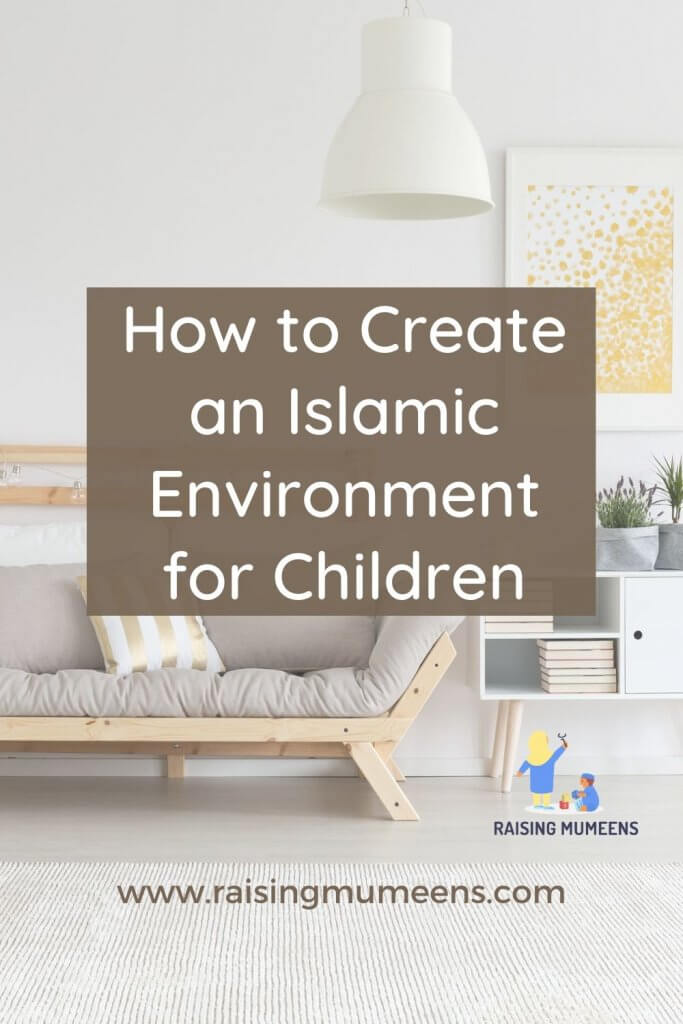 Create Your Ideal Community
Like I said earlier, the community where a child interacts plays a great role in who they grow up to be. As a Muslim parent, you want to be intentional about your community.
Strive to live among those who share similar values as yourself and can positively influence your child by themselves or through their own children.
Every time your child interacts with families of similar Islamic values, the tarbiyyah (education) that you are giving them at home is further reinforced.
Your community can be your neighbour, the families at your local Masjid, at the park, Eid ground, or the ones you wave at when taking a walk around your house. All these people can help you create the ideal Islamic environment.
Giving your child a wholesome Islamic upbringing is not dependent on the country that you live in. Rather, it is about the lifestyle in your home, as well as the community that you create for your child.
Do you have any questions about creating an Islamic environment for children? Ask in the comments below.