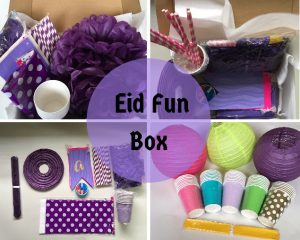 Assalam alaykum,
I hope that Ramadan is going well and you are achieving all that you have planned for yourself, in sha'a Allah.
This year, my friend and I have been thinking of doing Eid differently, if Allah (swt) wills. I don't know about you, but I feel like we don't celebrate Eid as much as we should.
The two Eids and the day of Jumah are the days of celebration for Muslims, and this year we are going an extra mile beyond eating and going to the Eid grounds for prayers.
This year, we are giving our homes an air of celebration with the Eid Fun Box.
This is our signature box of handpicked party décor items specially created for Eid.
This is a package that contains everything from pompoms to paper lanterns, bunting and even paper cups and table covers.
The pictures below show the 3 types of packages that we have, and you can have any delivered within Nigeria.
Package 1: the Eid bunting alone
Package 2: Bunting, balloons and  paper lamps
Package 3: Bunting, balloons, paper lamps/pompoms, straws, cups, fishing line, table cover.
How to Order your Eid Fun Box
Please go through the pictures to select your desired package and colour
Send an email to admin@raisingmumeens.com to enable us receive and process your order
Or send a WhatsApp message to me on 08034314031 to arrange payment and place your orders.
*please note that orders for delivery outside Lagos ends on the 15th of Ramadan, while orders for delivery ends on the 25th of Ramadan, in sha'a Allah.
This is to give your orders enough time to get to you before Eid, in sha'a Allah.
You can also find us on Instagram (@raisingmumeens and @taqwa_collections).
ps: I'll be having a giveaway for Raising Mumeens blog subscribers, so subscribe to stand a chance to win the medium package of the Eid Fun Box!
Please leave a comment below if you have any questions.
We look forward to being a part of your Eid this year, if Allah (swt) wills 