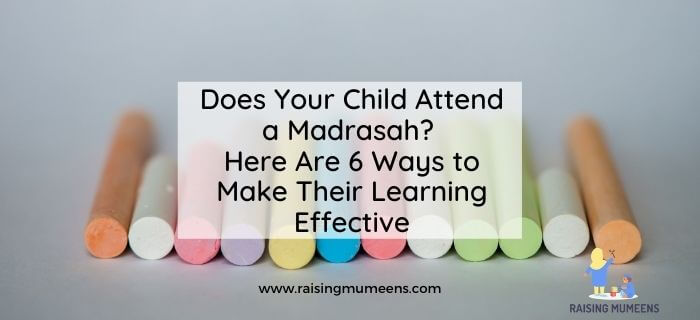 A Madrasah, which in my part of Nigeria means an Islamic school with only Islamic curriculum, not a secular school, has always been the traditional way of teaching kids about Islam, from the earliest days. For some parents, even though they have the knowledge of Islam, they need to send their kids to a madrasah so that they can be taught how to read, write and understand the Arabic language, read and memorise the Qur'aan, and learn about other aspects of the deen.
Many people teach their child(ren) at home. But if this is not possible for you, madrasahs are an excellent option. My kids attended a weekend madrasah from 2016 till the start of the lockdown caused by the COVID-19 virus in March.
Here are 5 ways that I have found to help us get the best out of the learning from the madrasah.
Get Familiar with the Curriculum
Every madrasah should have a curriculum for teaching the kids, and at the start of your child's enrolment (and in subsequent years), you should discuss this curriculum with the madrasah to know what the child will be learning. Usually, the subjects will include the following:
Arabic: reading, writing, speaking
Qur'aan: reading, memorisation
Fiqh: purification (wudhu, etc.),
Aqeedah: basics of belief in Allaah
When you know the curriculum, then you have a clear picture of what is going to be taught and you can check if this aligns with the vision that you have for your child's Islamic education.
Get Extra Madrasah Books
Because kids may not get to bring their textbooks home from the madrasah except they have homework, I highly recommend that you get two copies of their textbooks on a termly/sessional basis. This is something that I did and I found that it helped us stay on top of what they are learning at the madrasah every term.
So, if they were learning how to write the Arabic alphabet for example, and you had an extra textbook at home, the child will be able to practice at home instead of only getting to write in the madrasah.
If they normally bring their textbooks home from the madrasah, then you may not need to get extra copies if they are not going to write inside them (like they do in workbooks).
Ask the Teachers for Feedback
The best way to know how your child is doing with the classes, apart from what you can see the child do or say at home, is to ask the teachers for feedback. This will help you to identify areas where your child is on track and where they need more help.
I found teachers' feedback to be very important because sometimes I get the impression that my child is struggling with a topic (maybe because they act like they don't know it at home), but speaking with their teachers gives me a different picture.
Sit In On Some of Their Classes
Parents will normally not be a part of the madrasah class, as you will often drop off the child at the school gate and pick them up in the evening. But after sitting in their classes as a chaperone during their virtual madrasah classes, I recommend that parents should attend at least one of their child's classes just to have a feel of the style of teaching, your child's participation, and teacher-student interaction.
This will help you identify a few things:
If your child is getting the right attention (take the size of the class into consideration)
If the teacher's style is effective
How the curriculum is being administered in reality
How your child responds to what they are taught
Gaps in your child's knowledge that you can fill at home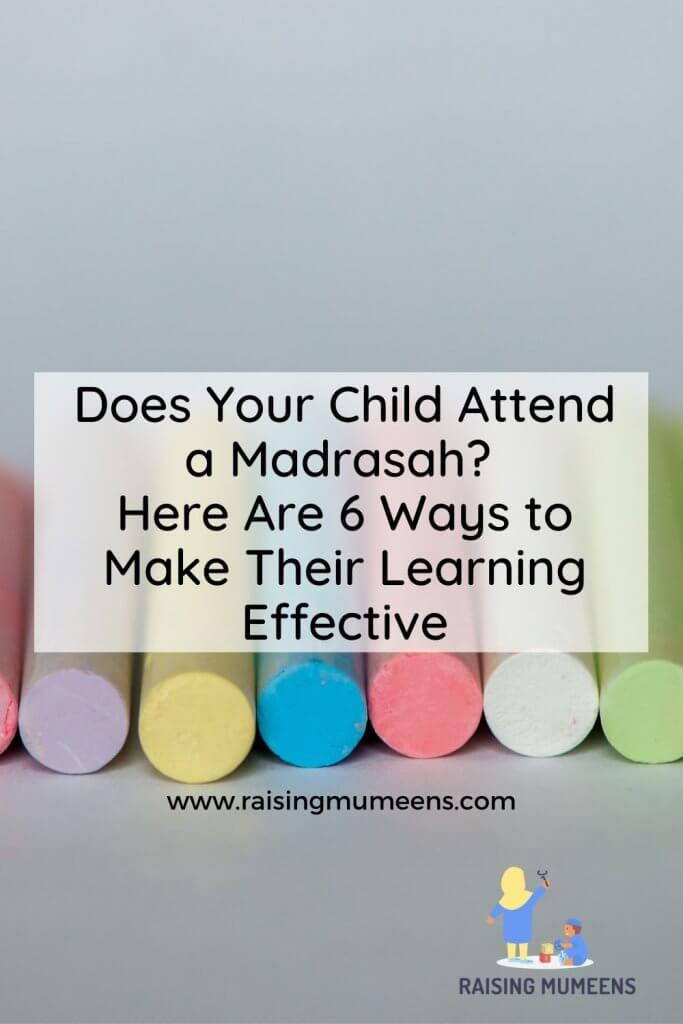 Revise Madrasah Classes at Home
Whether the child attends the madrasah every day or weekends only, it is important to revise what they learned in class at home. This helps solidify their knowledge.
Our madrasah was weekend-only, and many times in the beginning, we would get back home, do the homeworks and leave the school folders on the table till the follwoing week. Of course, by the following week, the kids may have forgotten some of what they were taught last week. This doesn't help anyone, not me, not the teachers, and certainly not my kids. We end up spending longer than necessary on topics that we could have mastered in a shorter period of time.
To help with this, I made it a task to check what they did in a particular weekend, note it down in my own journal, and revise it with them during the week. So, if they memorised a dhikr last weekend, we will recite the dhikr every day during the week.
Expand on Madrasah Curriculum
Depending on where you live and the level of Islamic education that is common, you may need to expand on the curriculum and add a few more topics to teach at home. Our madrasah ran for five and a half hours on Saturdays and Sundays only. This is a very limited time to get work done, and I couldn't rely on just that schedule for their learning, otherwise, they may not get to learn as much as they should.
So, when you are expanding on the curriculum, you are basically adding more related topics that are suitable for the age of your child and won't become overwhelming. For example, if the child is memorising a surah of the Qur'aan at the madrasah, you can expand on that at home by doing a few things:
Revise the surah consistently on non-madrasah days
Get authentic resources like books to teach the tafsir of the surah
Read the translation of the surah together if the child doesn't understand Arabic
Talk about when the surah was revealed
Find keywords in the surah and learn their meanings with your child
The goal here is to increase your child's knowledge of the topics that they are learning at the madrasah so that they can have a deeper understanding.
The madrasah can be the best place for a Muslim child to get a rich knowledge of Islam, and with parental involvement and extra support, a child will get the most out of their Islamic education at the madrasah, in sha'a Allah.
Do you have questions about helping your child get the most of out their learning at the madrasah? Feel free to leave a comment below.