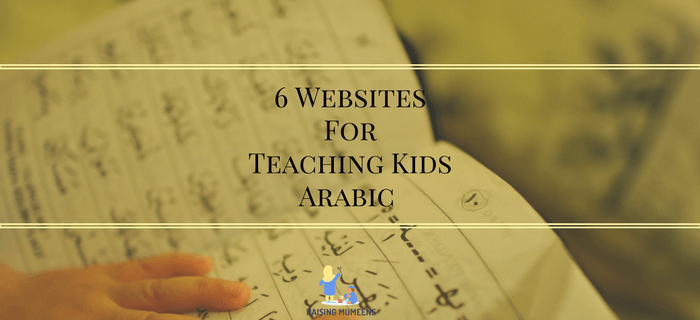 Teaching kids Arabic can be daunting,  and as a non-native speaker of Arabic, I know that one of the barriers to our learning progress has to do with finding the right resources. Thankfully, these websites have designed simple and effective resources for teaching kids Arabic. A lot of these resources are also for homeschooling and teaching Qur'an.

This website is that resource bank that every non-Arab parent needs. Their resources are geared towards teaching kids Arabic using the four skills of reading, writing, speaking and listening. The favourite for me is how they incorporate everyday life into the teaching of Arabic. Because really, that is one of the most effective ways to learn a language.

This is an online bookstore geared towards non-native speakers of Arabic. Compared to most websites, their Arabic books and curriculum are designed according to levels of proficiency, not age. That's a bit like how you would be grouped if you attend a madrasah.
This method will help parents to pick resources suitable for their kid's level, not age. So your child may be a teenager who is just starting to learn Arabic and he/she will use a beginner's curriculum instead of that of a teenager.
This is also an online bookstore featuring Arabic books for children and beginners. Their selection even features Arabic toys and audio books. They also have a cool blog that shares practical tips for learning Arabic.
This website is not just for teaching kids Arabic. It is a Muslim lifestyle hub for self-development, parenting, and art. They have a whole section on learning Arabic and you will find useful printables that you can use to teach kids Arabic.

No doubt this website has almost every resource that you can ever need for teaching kids Arabic, homeschooling, or teaching the Qur'an. Honestly.

She is a mom on a journey towards bilingualism (my kind of person). Her blog has printables that will help your kids learn Arabic hands-on.
I hope you and your kids will find something suitable to work with on these websites. This list is by no means exhaustive, so I will be updating it as I find more resources to share, in shaa Allah.