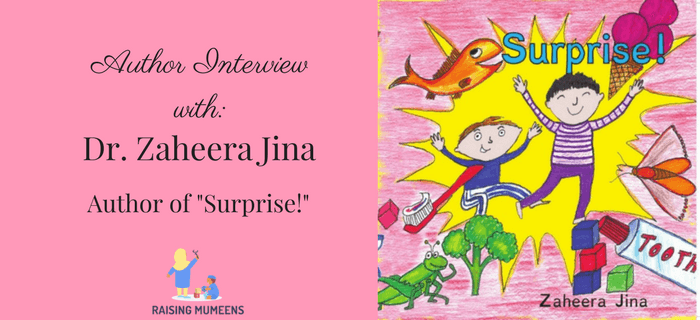 As a writer, Muslim mum and parenting blogger, seeing a new Muslim children's book on the shelf is honestly one of the things that make me happy. I love the idea that more and more Muslims are giving our kids the opportunity to see themselves in books and to experience a narrative that they can relate to.
That's why I thought to start interviewing Muslim children's book authors, and the first feature is Dr. Zaheera, the author of the recently launched book, Surprise!
I want to know why an author has chosen to write a book and what purpose they hope it will serve.
About the Author
Dr. Zaheera is a South African writer with a PhD in Mathematics Education from the University of Witwatersrand in South Africa. Apart from her latest book, Surprise!, she is the brain behind the anthology, Riding the Samoosa Express: Personal Narratives of Marriage and Beyond. She currently lives in Lenasia, South Africa, with her husband and two sons.
So…to the interview:

What is your book, Surprise!, about?
Surprise! is a story about my own kids. It goes through their evening time rituals to get them ready for bed. For me, it's a gift to them, to capture these important moments and treasure them.
What inspired you to write Surprise!?
My own children inspired me to write the story. At the time of conception, Yusuf had just turned 6 and Isa had turned 2. My husband goes away often on business trips and I am alone with the boys. I want them to remember the time which we spend together.
Surprise! is a book that shows love in a family. There are many ways to show love to children, but in your own opinion, what are some of the most effective ways for Muslim parents to show love to their children?
We often lose the essence of showing love to our children by spending on them in material ways. We need to spend time with them all the time so that they learn through us modeling life to them.
There has been a growing call for diverse books in the publishing industry. Books that children considered minorities in any form can relate with. Did this new trend play any part in your decision to write the book?
From a South African context, I have noticed that Muslim children fiction is very religious. The books are of a poor print quality and focus more on teaching children Islam only. Internationally, the books involve Muslim families and teach children values that all children require. We need more good quality children books of Muslim children in our South African market.
Coincidentally, a friend of mine recently mirrored Dr. Zaheera's sentiments about the need for good quality children's books for Muslim children. But in that conversation, we were even talking about Nigeria.
I think that regardless of geographical location, we need to provide Muslim kids with quality books that teach the right values while still entertaining them.
Surprise! is available for purchase on the publisher's website (Djarabi Kitabs Publishing), or Amazon UK and Amazon USA