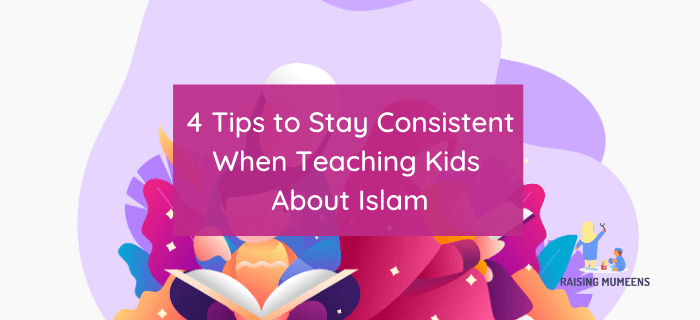 One of the biggest stumbling blocks that many of us have towards teaching kids about Islam has to be consistency. One day, you are super motivated to read Qur'an with the kids, tell them stories, memorise ahadith, etc. This motivation may last for a few days and before you know it, one missed day of revision here and there and you're already slacking on your goal or you've abandoned it altogether.
I know that much of the progress that I could have made with my kids was derailed by a lack of consistency in our learning for a long time. Some days, we read half of the 30th juz of the Qur'an in one sitting. Then, we may follow this with days of not even opening the mus'haf. From personal experience, I have seen how a lack of consistency can impact what you are trying to achieve with the kids, especially in two ways:
The Kids Won't Take You Seriously
When you lack consistency, the kids won't take you, and what you are trying to teach them, seriously. If they have come to know that you are only fired up once in a while, they will lose their own fire altogether. That is why you will find that when you finally find renewed motivation, it will be difficult to get the kids back on board with learning because they are already used to a 'start and stop' schedule.
Kids May Experience Knowledge Regression
It is one thing to not have the knowledge, it is somewhat even worse to have it and forget it. Knowledge regression is one of the negative ways that inconsistency in learning the deen can have on children. If a child (or even an adult) memorises a chapter of the Qur'an and does not revise, read or listen to it for a few days or weeks, there is a high chance that they will forget what they have memorised. As the parent teaching the child, this will undo what you have earlier achieved with the child and take you back to square one. The energy needed to be consistent in the first place is the same energy that you will end up spending to re-teach what they have forgotten. This minus the fact that seeing your child forget something that they already knew comes with some feeling of guilt and sadness, at least for me.
So, how can we prevent these situations and stay consistent with teaching our kids about Islam? Here are a few tips that I want to share with you, in sha'a Allah.
Find Your Family Rhythm
You've probably read somewhere that the best time to read or memorise the Qur'an is in the early morning, before or after fajr when the whole house is still quiet and you have fewer responsibilities. But can I tell you something? This may work for me as an adult, but never for my kids. Waking them up at that time is a hassle and there is no way they are going to cooperate to do anything except salah. This may change in the future (or even tomorrow), but right now, no.
So, rather than depend on when the 'wake up early' mood hits my kids, I found the best time that works for us as a family to read/revise the Qur'an, and that turned out to be after the Asr salah.
Your family rhythm is the best time and methods that work for you as a family, and this can be any time of the day, or at a particular place that is not in all the tips and tricks books and blog posts that you have read.
To find the best time (or place) that works for you when teaching your child the deen, I will advise that you experiment with different times and note which one works the best. Some things that you can consider are as follows:
What time is your child most active/responsive to learning?
When do you have fewer tasks on your personal to-do list?
When do you all have fewer/no distractions?
Which part of the house do the kids like to learn at the most (this can help their enthusiasm)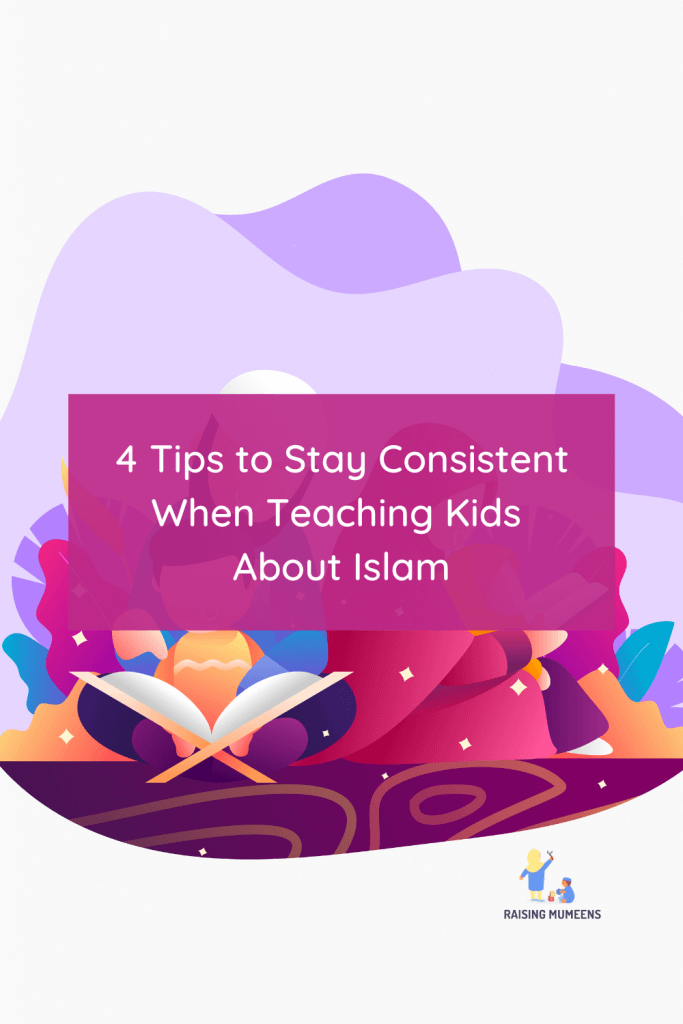 Accountability
Consistency often dies when there is no accountability. This is why a solo business can die faster than a structured business with employees. When you don't have anyone holding you accountable for what you should be doing, the responsibility of accountability falls on you and many of us have the habit of not keeping our promises to ourselves as regards the things that we want to achieve.
To stay consistent when teaching kids about Islam, we have to hold ourselves accountable to our plan and goals. If you have made a plan to revise the Qur'an with them at a particular time every day, make yourself show up. And when you don't, don't shrug it off as something you couldn't help until you have asked yourself these questions:
Why didn't I follow through on my plan?
What can I do better?
What ways can I hold myself accountable towards this goal?
With the last point, an effective way to hold yourself accountable is to involve the kids in your plan for teaching them. Trust me, they will hold you accountable by reminding you of the plan whenever you seem to be digressing. Except they are not interested themselves, kids never forget something that you said you will do with/for them.
Have a Plan
People say that a goal without a plan is just wishful thinking, and they are right. If you have a goal to teach your child the 40 ahadith of Imam Nawawi for example, but you don't have a plan of how to do that, then you may either not go far before you abandon the goal, or you will wing the teaching till you become overwhelmed with the mental burden that comes with doing something without a clear plan no matter how simple the plan is.
Personally, I find it most effective to have a plan and write this plan down. I don't know about you but I stay more consistent with my goals when I write them down. When something is only in your head, there is a chance for it to be overtaken by other things or events until you forget about it or till it becomes less of a priority.
With this planning, you want to look at a few things:
What do I want to teach my child (or what do I want them to learn from a madrasah/teacher?
How do I want to teach them? Define your methods
When do I want to teach them each thing? (Family rhythm comes in here)
Review this plan as it suits you to see if it's working. I currently do a weekly plan with the Tarbiyyah planner and I review every Sunday evening.
Plans help us with consistency by giving us a clear path to our goal. When you have a clear path that you can see, it's easier to stay consistent with your goal compared with when you are just winging it.
"Imagination is the start of building a dream, but planning is the bridge that takes you from imagining to making your dream a reality."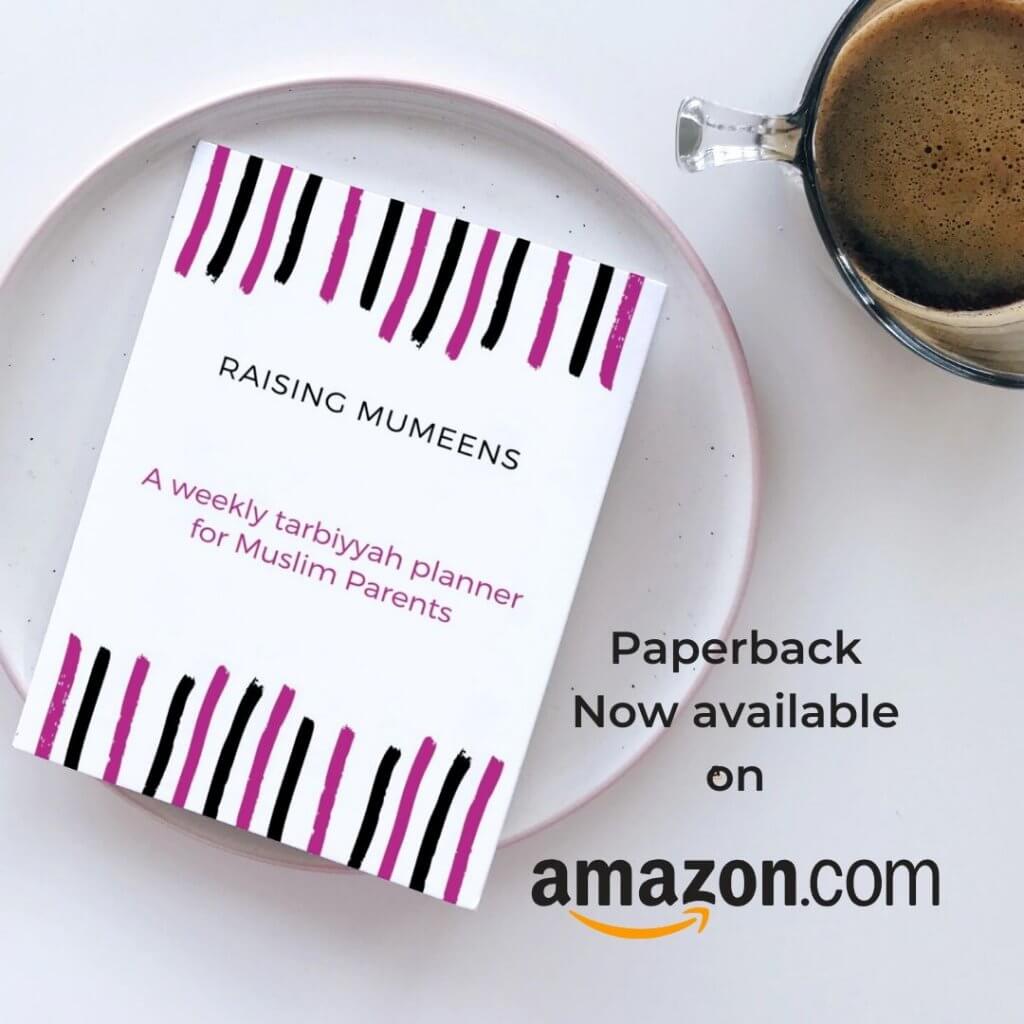 Make Dua
It is said that "Dua is the weapon of the believer", and this applies to staying consistent with teaching the kids about Islam as well. You are striving to raise children who worship Allah (ta'ala), so who better to ask for help than Him?
Make dua about consistency. Ask Him to keep you motivated and knowledgeable to carry out this duty, and ask Him to save you from laziness, despair, and a spirit that gives up easily. Make dua that you be granted offsprings and spouses who worship Allah (ta'ala).
رَبَّنَا هَبْ لَنَا مِنْ أَزْوَاجِنَا وَذُرِّيَّاتِنَا قُرَّةَ أَعْيُنٍ وَاجْعَلْنَا لِلْمُتَّقِينَ إِمَامًا
Rabbana hab-lana min azwajina wathurriyyatina qurrata aAAyunin waijAAalna lilmuttaqeena imama
"Our Lord! Grant unto us wives and offspring who will be the comfort of our eyes, and give us (the grace) to lead the righteous."
Another angle to dua helping us to stay consistent is that it can keep you accountable if you let it. When I make dua for a particular thing, I find myself working towards that thing with extra awareness of the fact that I have to make an effort if I want to see the dua answered. For example, when I make dua to be consistent with tahajjud, I make an effort to sleep early, have an alarm near me and do everything I can to wake up. When the alarm goes off, a part of me thinks: "remember you made dua for this, why don't you try to stand up today?"
One of the strongest 'weapons' in our arsenal when teaching kids about Islam is consistency. Someone with a little knowledge of the deen can achieve a lot more when they are consistent compared to a knowledgeable person who teaches their kids every now and then. Kids don't need a grand plan, they need someone who shows up on a daily basis no matter how little.
Do you find consistency to be an issue for you? Share how you overcome it in the comments or join the conversation on Instagram.