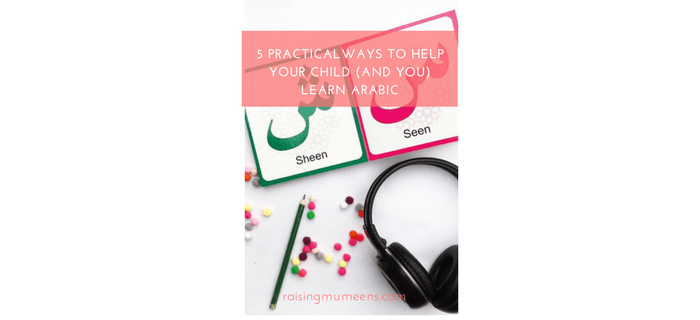 This post contains affiliate links. Please read my disclosure for more information.
I'm on a mission for the kids and me to learn Arabic and make it our dominant language of conversation. I can write and read Arabic quite well, but I can only understand few words right now. With the kids, I want this to be a read-write-speak kinda thing for them.
So, to make this journey of learning Arabic easier for us, I have been devising practical ways that will support whatever we learn at the madrasah (Arabic school).
I hope you find these tips useful for you and/or your kids too. Please remember that this does not mean that they will become native speakers in a month. What is most important is consistency.
Attend an Arabic Class
I know this is very Captain Obvious of me, but I'll to be honest and say that I have seen the positive effect that our Arabic class has had on us since we started last year.
If you are able to get a solid class where they have an established curriculum, the kids will be able to actually learn Arabic in a way that they will be able to speak, write, and understand all at the same time.
For a lot of Nigerian Muslims that I know, our madrasahs back in the day focused more on learning to read and write, instead of actually understanding Arabic. So watch out for the methodology that your intended Arabic school uses.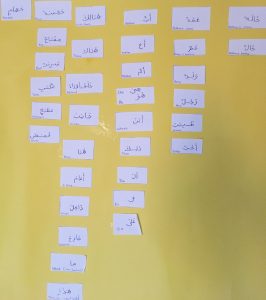 Create Visual Learning at Home
Most of what we learned last year was quickly forgotten because we only revised when it was time for madrasah. And I realised that that was setting us up for the path of learning without understanding.
So this year, I put up a cardboard with easy everyday words that we can learn. The idea is to put this up where you are sure to see it several times a day and encourage yourself to use as many of the words as possible. Nothing fancy schmancy, just something to help us remember to use Arabic words.
You can keep adding new words and crossing some out when you have mastered them.
Change everyday conversation to Arabic
This is something that I am just about to start doing. I will be making a list of 5 sentences per week that we can incorporate into our everyday lives. These sentences will be ones that we use every day at home.
The reason that I am comfortable with the thought of changing our everyday conversation in the home to Arabic is because I know that living in a predominantly English/native language speaking community, we still have a way of speaking those other languages outside the house.
Learn Arabic with Books and Resources
A good approach to augmenting the weekend Arabic classes. A lot of parents use flashcards and other hands-on resources to teach their kids Arabic, along with regular books. It is also a good idea for people who cannot find an Arabic school nearby. Books in different formats can be a great alternative for a school.
Simulate an Arabic-speaking Community
Since a lot of us do not live in Arab communities, we need to find a way to constantly speak or listen to the language so that we do not forget. So I found a couple of radio stations from Saudi Arabia on the radio app, TuneIn.
The idea is to listen to news on these stations consistently and get familiar with everyday words. I believe that the more I hear a word, the easier it will stick.
So, those are the five ways we are using/going to use in our journey to learn Arabic. I hope it helps you too.