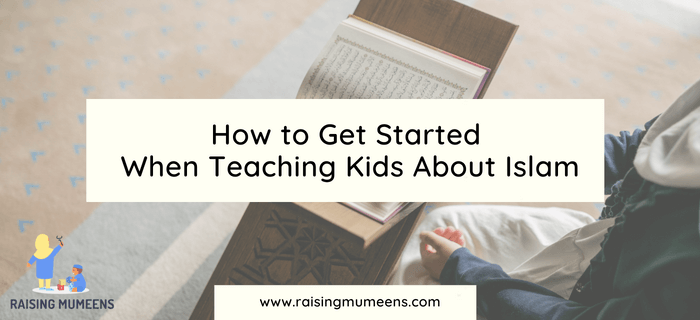 As narrated by Abu Huraira, Allah's Messenger (ﷺ) said, "No child is born except on Al-Fitra (Islam) and then his parents make him Jewish, Christian or Magian…" (Sahih Bukhari: book 65, hadith 297)
As Muslim parents, we have a huge task when it comes to teaching kids about Islam. We have a responsibility to show them the path to Allah (SWT) and teach them how to worship Him. Sometimes, we may get confused about where to start this responsibility from. What do you do first? How do you get started? What should you teach? Etc.
This post shares 5 places to get started when teaching kids about Islam.
Start (and continue) with Dua
Raising a child is an amanah (trust) from Allah (SWT). If you are thinking of where to start carrying out this amanah, there is no better place than starting with Allah (SWT).
Whether you have a child now or are hoping to have one in the future, in sha'a Allah, start and continue your parenting journey with dua.
Ask Allah (SWT) to grant you righteous offsprings. Ask Him to keep them on His path and give you the tools you need to raise them as righteous Muslims.
Make dua for guidance for yourself and your child. Ask for beneficial knowledge, righteous friends, and wisdom. Pray that the deen is easy for your child to understand and practice. Beg Allah (SWT) to make your child a model for the righteous of our Ummah and for them to be a source of khayr for you in this life and the next.
Whenever you want to teach your child something new, make dua that Allah (SWT) blesses the knowledge and allows it to benefit them.
There are no limits to dua. Stay in the habit of making dua for your child.
Start From Yourself
Do you know the saying that you can't pour from an empty cup? It applies to us when we want to teach our children about Islam. Parents and primary caregivers are the first points of contact that a child has with Islam, and for us to be able to teach them, we need to have the right tools in us.
For starters, here are three areas that can be helpful to look at when starting from ourselves.
Our education
How much we know about Islam is essential when raising our children. To teach your child about Islam, start by having a good knowledge of Islam yourself. Know what it means to be a Muslim, your purpose on earth, and what you need to know to correctly worship Allah (SWT).
Improve your existing knowledge by enrolling on courses or studying under teachers who teach authentic Islamic knowledge.
Listen to Islamic scholars and preachers who hold on to the Qur'aan and the sunnah of Prophet Muhammad (SAW). Improve your knowledge of the Qur'aan, Hadith, Fiqh (Islamic jurisprudence), Arabic, Seerah of the Prophet, etc.
Soak up all you can and practice it so that you can improve as a Muslim and so that you will have something beneficial to pour into your child.
Rectifying Ourselves
Part of starting from ourselves is rectifying ourselves. You know the things that you do that are not Islamically acceptable. You know your shortcomings. In seeking to teach our children about Islam, we must be ready to rectify ourselves.
Strive to improve your character and avoid sins as much as possible. Try to do better in all areas of your life. For example, if one is already praying five times a day, they can add nawafils (non-obligatory prayers). There is always room for improvement.
Stick to the things that Islam commands and leave that which it prohibits. Because one of the ways by which we destroy our parenting efforts is by not living up to the things that we are preaching to our children. For example, we can't tell a child to wake up for Fajr salah if we are not praying Fajr ourselves.
Start by rectifying yourself, so that you can improve as a Muslim, and so that you can teach your child from a place of sincerity.
What We Model
Children listen with their eyes. What we do around them is a big part of what we teach them. As you prepare (or continue) to teach your child about Islam, be conscious of what you are modelling to them, and what you are portraying in front of them.
Strive to be a good role model. Do in front of your child, what you want them to do now and later. This can have more impact on their tarbiyah than sitting them down to lecture them.
Start From Your Home
The home is the primary place where a child learns about Islam. It is the first place they will see Islamic practices like praying and fasting. It is also the first place they will experience Islamic behaviours like tolerance, forgiveness, mercy and good companionship. And it is also where they will come to validate whatever they learn about Islam from other people.
So, it's only right that one of the places that we should start when we want to teach our children about Islam is the home. When it comes to the home and the tarbiyah of your child, start with three things:
The Lifestyle in the Home
Let the lifestyle in your home be Islamic. Your food, decor, etc., should reflect the fact that you are Muslims who are conscious of their religion. Let Islam be reflected in your choice of dressing and how you generally live in your home.
The Daily Habits in Your Home
Few things show how much a person prioritises their deen like their daily habits. Do you wake up early because of tahajjud or Fajr? Eat with the right hand? Say salam alaykum to the people in your house? Do you remember Allah (SWT) often in your home?
Your daily habits reflect your consciousness of Islam, and if you want to start teaching your child about Islam, let your daily habits in the home reflect what you want to teach.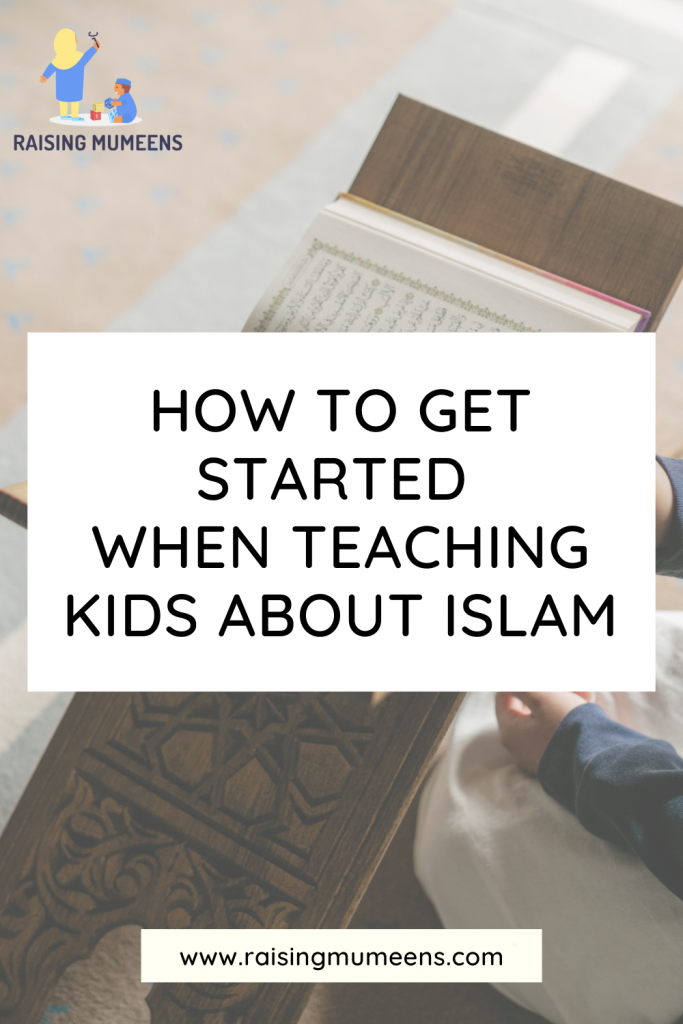 Start From the Basics with Books
When we think of teaching children about Islam, we think of books. We think of Arabic tracing sheets, small Qur'aan pamphlets and rhymes about the five pillars of Islam. These are also great places to start. Children need the textual knowledge of Islam to help them understand the fundamentals of the deen and learn the way of worship.
With books, I suggest starting from the basics. Whatever topic you are teaching (or asking a teacher to teach) should start from the beginner's level, so that the child can understand the rudiments before moving to more complex matters.
For example, if you want to teach a child how to read (not memorise) the Qur'aan, the natural place to start is to teach them the Arabic alphabet letters.
It is after they can identify, pronounce (and possibly write) the letters that they would be able to join them together to form words and make sense of Arabic sentences.
Here are a few areas you can start from with books:
Qaidah – usually a beginner's introduction to Arabic letters. Most qaidahs start from single letters and progress to sentences. A popular example is the qaidah called Nurul Bayaan.
Short surahs of the Qur'aan – The shorter surahs in the Qur'aan (the 30th juz) are often easy for children to memorise and remember.
Fiqh – Simple topics on taharah (purification) and salah (prayer) that teaches the child how to perform ablution and the correct steps for praying.
Aqeedah/Tawheed – Learning about who Allah (SWT) is, who created us, where Allah (SWT) is, His names and attributes, etc.
Start From Your Environment
Like the home and the parents, the environment where a child is, contributes a great deal to how they learn about Islam. Whether this environment is physical (like your neighbourhood) or virtual (social media, video calls, etc.), a good place to start when teaching kids about Islam is to curate an environment that supports what you want to teach your child and the type of Muslim that you are hoping for them to become.
As Muslim parents, we should be deliberate about our environment and what our children are exposed to. With respect to the environment, I want you to look at three areas:
Family, Friends, Neighbourhood
Start by exposing your child to the people who support your dreams for your child, and people who can make your job of teaching Islam easier.
Look for people in your neighbourhood (neighbours, masjid folks, etc.) who are living the type of life you want and raising their children how you want to raise yours.
Make friends with them or be friendly from afar so that you can benefit from their lives.
Be in regular communication with family and friends whose parenting vision aligns with yours so that your children can have people to relate with.
Of course, this doesn't mean that you discard or cut off relatives who don't align with your parenting plans. But the people who are most aligned with you would tend to make a more positive impact on your child.
Entertainment
One of the biggest sources of influence in a young child's life is the type of entertainment they watch, listen to or experience.
As a parent who is teaching their child about Islam, get started with entertainment that is compliant with Islamic values, does not promote things that are forbidden in Islam, but rather promotes good manners and lifestyle.
Children learn a lot from their entertainment. If you want to start your parenting journey from a solid base, expose your child to positive entertainment that promotes the values of Islam that you are trying to teach.
Positive Role Models
While parents are often the first role models for a child, we are not the only role models. Children watch other adults, learn from them and imitate them. When you want to teach your child about Islam, it is helpful to expose them to peers, older kids and adults who can positively impact their lives.
For example, you can encourage your child to make friends with another child who is actively memorising the Qur'aan. Maybe through watching them memorise and revise daily, your child would be inspired to strive to memorise too.
You can also take your children to the masjid where they will see and listen to different preachers, so that maybe the words of these people will stick in their young minds and make a positive impact.
There are many ways for us to start when teaching our children about Islam. With these five places shared, I hope you find something simple and actionable to help you on your parenting journey today.
If you would like to dig deeper and learn practical step-by-step ways to teach your child about Islam at home, click here to sign up for the Tarbiyah at Home course.
The course is a practical guide to teaching your child about Islam. It gives you step-by-step tips that you can start to implement today, whether your child is an infant or a preteen.