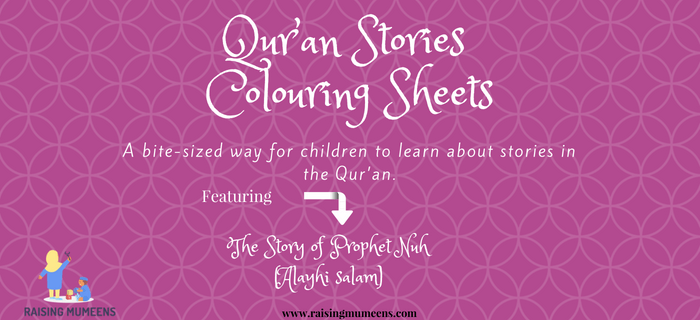 A few weeks ago, I began a series of posts aimed at introducing Qur'an stories for little children. My intention behind this is to introduce kids to stories from the Qur'an, and the lessons that they serve to teach us as Muslims.
We already did some craft work about a few surahs (like suratul Fiil). It helped the kids understand the surface "gist" of the surah, i.e, what happened with the people who wanted to destroy the Ka'abah, the elephants, the birds, etc.
In this post, I'm sharing a little colouring sheet that I made for the story of Prophet Nuh (alayhi salam). Basically, the colouring sheet and its preface are supposed to:
Tell the kids a little about Prophet Nuh (alayhi salam)
Help them in their journey of understanding aqeedah by learning the importance of believing in Allah (ta'ala) and His prophets
Teach them the dua that he made to Allah (ta'ala). (It is said that every Prophet was given the opportunity to make a dua that Allah (ta'ala) will accept, and they have all used it, except Prophet Muhammad (Sallallahu Alayhi wa Salam) who reserved his for the Day of Judgement
Give them elements from the story to colour. In this case, we have animals, the cloud, a boat, etc.
What this Printable is NOT
This printable is not an explanation of the Qur'an, neither is it attempting to issue any fatwa or establish any jurisprudence. It is a way to, like I said earlier, gist your child about stories in the Qur'an.
How to Use this Qur'an Stories for Little Children Printable
This printable has two pages: one for the snippets on Prophet Nuh, and the other is the colouring page. To get the most out of it, the parent or guardian should tell the child(ren) the story of the Prophet in detail, using the snippets in the printable as points of discussion. That way you can go deeper and let the kids know more.
You can click here to download your free copy.
If your child is a toddler and below, the colouring page is a perfect fun activity for them. For older kids, you can have a quiz after the session to see what they understand about the story. You can also read/watch tafsir about the story of Prophet Nuh online.
I pray you and your family find this useful. Click here to download the free Qur'an stories for little children printable.
(If you have any problems with the download, please leave a comment or contact me). Please feel free to share it on your social media pages, WhatsApp, Telegram, or via email with your friends. JazaakumuLlahu khayran.
Have you been teaching your children about stories from the Qur'an already? Please feel free to share your method with us in the comments section.